Holy Smokes! It's been awhile since my last post....yes, summers here and I've been busy....mowing yard, pickin' Strawberries, crafting and oh, the everyday stuff too.
~Thank You Kind Folks
Last week one day Maygan wanted to have a Lemonade Stand. I tried to explain to her that we live on a country road and not to expect many (if any) sales, cause there just isn't much traffic. She insisted that she still wanted to try so we made special Star Ice Cubes, Pink Lemonade and fixed up a table to sell from. Bless her little heart, she sat there for over an hour watching what few cars there were pass right by. Me, I'm sittin on the porch, hooking a rug, also waiting and praying for just one customer. Then, it happened....a State Road Crew Truck passed and put on the brakes...beep, beep, beep...it was backing up! Out of her chair she jumped, so excited and was the best Pink Lemonade Sales-Woman I've ever seen. She sold 5 Glasses, all at one time and instead of a Quarter a Glass, they all gave her 50 Cents a glass. She thanked them all for stopping as did I, many times before they left. As they drove away, she started tidying up her table, meanwhile singing a happy little tune. Those Kind Folks had made her day!
This was almost her 6th Customer that day~~~~
This guy decided to stroll into our driveway after the Lemonade Stand closed for the day...He was only 2 feet away from where Maygan was sitting 2 hours earlier...kinda scarey! Yep, I'm hiding behind Massive Rocks we have in our yard snapping pictures.
I made a couple sweet Raggedies yesterday, here is a glimpse at what I've been working on...they are all up and available on my website..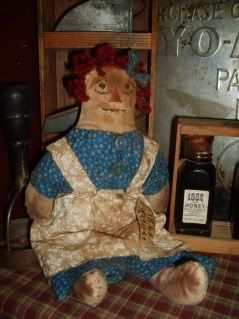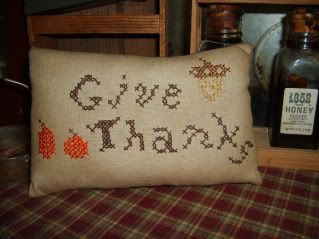 One of these Witch Punkins will be included in my Mystery Giveaway, don't forget to leave a comment on the Giveaway Post to be entered into the drawing July 7th!

Some of my Summer Perennials are starting to bloom, this is one of my favorites.....Red Bee Balm.....
We are going to have a busy Saturday, lots of parties! A wedding at 11am, I used to babysit the Bride to Be when she was just a little girl. Congratulations Brigit & Ken, may you be Blessed with many, many years of Happiness!
Then we are off to a Graduation Party/Pig Roast in the evening. It will be lots of fun.
And,