I thought it would be fun to share my team of Work Horses with you. Workhorses you may say?.........those are Sewing Machines!
This is the leader of the team, my everyday sewing machine....yep, she is a young 57 years old. She was made in 1953, Model #EJ778027. She might not be much to look at, no fancy stitches either, but she can sure do her job sewing those prims.
She got all cleaned up today and oiled, so she is ready for another hundred yards of thread. This old girl belonged to my husband's Mother, bless her heart, I feel privileged to call her mine.

Next Team Member is this 1954 Singer Model #RF48. This poor girl needs some TLC. She doesn't have a belt, but if she did I think she'd be a working machine.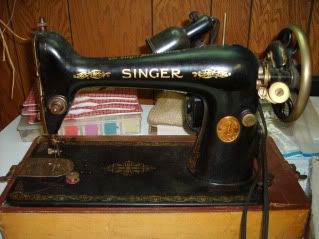 She came to live here a few years ago, found her at an auction.

The third in line is this precious lady. She is a 1956 Singer, Model #EL909252. She was found sitting under a table at a Garage Sale, I bought her for $5.00 with thoughts of her being a parts donor for my main lady. But, she SEWS! So she is my stand-by team leader.
Before she could take over the reins, she would need to be re-wired though.

Lastly, this is my Singer Model #F0988813, she was made in 1911. She doesn't have much Horse Power as she is an Old Treadle Machine. I suppose if I could figure out where the bobbin goes, she would sew too. I think I'll let her rest as she has probably done more than her share of work in her day. Consider her retired.
As you can see, I have a very strong team of Singers. They are my most favorite sewing machine, the only time I ever sewed on a different kind of machine was in Home-Ec class in school. Up until my Mom passed away, she too sewed on a Singer Sewing Machine, one exactly like I use everyday. So I guess you could say that the "apple doesn't fall far from the tree". (I think there was a bit of friendly family competition to see who could own the most Singers, LOL).
Wishing you all many Happy Stitches and Miles of Thread,