Happy Saturday All...
I picked 3 Bingo words today, they are
Turkey
Straw Bale
BONUS WORD.........Candles

Today we are going to my sister's house for my nephew Travis' Birthday. I spent yesterday in my sewing room and was able to get some more Christmas Prims started. Last night I stuffed them, now they will wait to be finished.
This is a group shot of what I have finished up so far....


I also put away Halloween and dressed up my fireplace mantel in Simple Autumn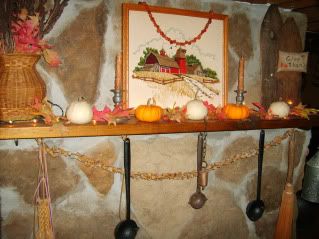 Wishing You All a Great Saturday.....til tomorrow friends......