Happy 1st of July....it's hard to believe it's July already!
I don't have a whole lot of new happenings so I thought I'd share pics of a few of my Homestead Gatherings.
This is a tabletop gathering in my Kitchen. I got the Table a few years ago at a Flea Market...It is probably my all time favorite. It has it's original green paint and it's neat cause at each end it pulls out to make the top larger.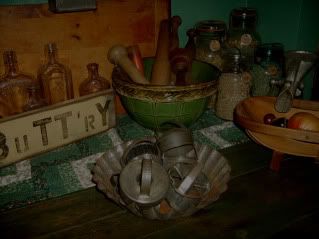 This is also in my kitchen, just some old kitchen stuff.



An Old Divided Drawer that I turned into a shelf.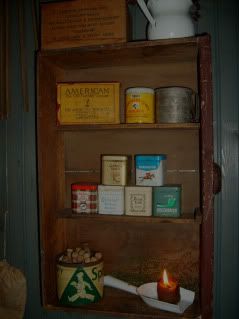 This is my "Writing Desk" display, old papers, books, candlestick



This is a little black box that I filled with more favorite things, Grubby Candles, a Print and Old Bibles. The Bible in the back is from my Dad's family, the copyright is 1898.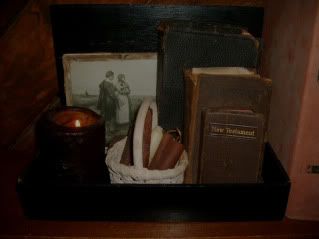 Speaking of my Dad, he was born in 1913 and I have old Journals that were kept his Maternal Grandfather, from the 1800's. I have read them, cover to cover and he kept track of everyday happenings on the farm. I'll have to see if I can get some pictures of them and share with ya.

I added some new prims to my website this morning that I finished up the last couple of days. If you get a minute hop over there and take a peek.

Blessings..............