Where has the Summer Gone? Boy, it seems like school just let out for the summer and now it's about to resume.
I took some time off recently and enjoyed every minute of it. I guess the only highlight of the last few weeks is spending 10 days at the County Fair. We got to see many of our friends and family that also camp there, as well as the Music Events, Truck/Tractor Pulls, Rides, Animals and of course Fair Food! Here are a few pics of our week.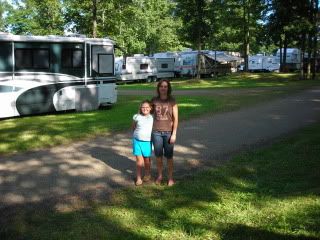 Maygan and I entered some of our crafts and baking in for judging. Maygan won a First, 3 Seconds and a Fourth. She dressed up a Cucumber as a Kangaroo, made Cookies and Muffins and 2 Flower Arrangements.
Baking in the Camper


Maygan's Favorite Sheep


Trying to Survive the Heat with Water Balloons


A Failed Attempt to Win a Goldfish


Now, we have got to get the school shopping done, haven't even started yet and school starts Aug. 31st. I hope then that I can get back to the sewing machine and making prims.